Cordry Sweetwater Conservancy District - Committed to Excellence
Hours
Monday – Friday: 7:30 a.m. – 4:00 p.m.
Saturday (May through August): 8:00 a.m. – 12:00 p.m.
For after-hours WATER Emergencies please call or text one of the following until you get a response:
317.412.7025
317.306.8395
Please remember that customers are REQUIRED to have a working shut-off valve installed somewhere on your side of the water meter for turning off and on your water.
Fix a Leak Week
March 01, 2020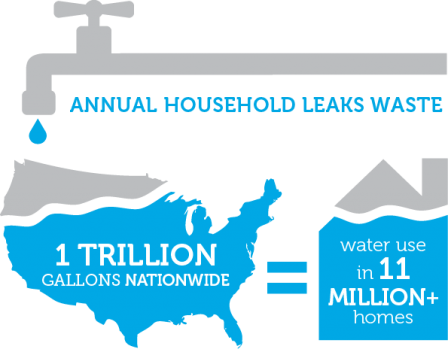 Mark your calendars, folks: March 16-22 is the EPA's annual Fix a Leak Week. Household leaks can waste more than 1 TRILLION gallons of water each year. Yes, 1 TRILLION—That's a one with 12 zeros behind it (1,000,000,000,000). Those drippy faucets and leaking toilets are more than an annoyance; they cost you lots of money, and they waste LOTS of water. So, this March, hunt down those drips! Chase those leaks!